A Top Choice in Upscale Consignment Stores in St. Peters
Buying furniture from upscale consignment stores, like Calisa, can allow you to buy unique and high quality furniture at prices that are 40% to 80% off retail. At our upscale consignment store, located in St. Peters, Missouri, we sell only top quality furniture pieces that are in like-new condition, and we bring these pieces to our customers at huge discounts as compared to purchasing new designer furniture.
If you are searching for upscale consignment stores and furniture stores in the St. Louis area, your search ends here. Come in to our St. Peters store today to see our large selection of upscale, pre-owned furnishings and home decor. Because we are like most upscale consignment stores, we see frequent changes in our stock, with new pieces available daily. If you are not able to find what you are looking for one day, come back often to make sure you do not miss out on any great finds.
You can also sign up for text alerts to stay informed about new pieces, coupons, and store specials.
Benefits of Buying From Upscale Consignment Stores
There are several benefits of buying from upscale consignment stores as opposed to buying new furniture from pricy retail stores. For example, consignment stores offer: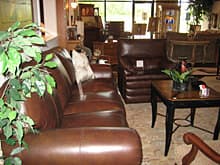 Great Selection: Upscale consignment stores offer a variety of furnishings and home decor to suit any taste. The selection is often much wider than you would find in a traditional furniture store.
Great Service: Upscale consignment stores, like Calisa, usually offer great service. The environment is friendly, warm, and stress free. Helpful staff are at hand, without being pushy or overbearing as some furniture salespeople can be.
Value: Upscale consignment stores offer great value for your money. Therefore, you get more for less.
Low Prices: Prices at upscale consignment stores can be unbelievably low, with discounts up to 80% on some items.
Name Brand Furniture: Shopping upscale consignment stores is your best opportunity to buy brand name furniture at low prices. New brand name furniture is often exorbitantly priced. However, you can get the same furniture at low prices at upscale consignment stores.
New Items Arrive Daily: Upscale consignment shops have a quick product turnover. To replenish the stock, new furnishings and home decor articles are added every day. This means that you can see a new variety of items every time you come into the store.
Find Unique Pieces at Affordable Prices at Our Upscale Consignment Shop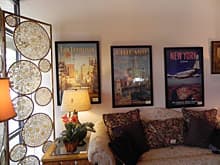 At Calisa, you will find some of the best discounts on high quality, name brand furniture. Therefore, you can take high quality, pre-owned furniture pieces home at a 40% to 80% discount off retail prices. Additionally, unlike many other upscale consignment shops, we have a strict quality policy. We consign only the best quality furniture. Therefore, you can be sure you are buying high quality pieces that will last.
Many of the furnishings and home decor items in our store come from people who are moving and those downsizing to smaller homes. In many cases, it is not practical for individuals to keep every piece, so they will consign the items to upscale consignment stores. This allows us access to many antiques and unique, one of a kind finds which you can get in our shop for great prices.
Delivery Services Available throughout the St. Louis Area
If you need delivery for any purchase you make from our store, like most upscale consignment stores, we can help arrange for delivery for an additional fee. We will give you a list of trusted local movers who can move the item from our store to your home. We will even hold your item for 24 hours, free of charge, while you find a mover.
Contact Calisa- One of the Best Upscale Consignment Stores in the St. Louis Area
Calisa Home Decor is one of the best upscale consignment stores in the St. Louis area, with our location on Mid Rivers Mall Drive in St. Peters, Missouri, we are easily accessible for customers throughout the St. Peters, St. Charles, and Wentzville areas and we are only a short drive for others from around the St. Louis area. To learn more about our store or to see our current selection of items available, contact us or visit our upscale consignment store today.
Store Hours
Monday & Tuesday | CLOSED
Wednesday - Friday | 10:00 AM - 5:00 PM
Saturday | 10:00 AM - 5:00 PM
Sunday | NOON - 4:00 PM

Calisa Videos

Calisa Home Decor

Events at Calisa Home Decor