We will pick it up

If you cannot take your purchase with you we will hold the item(s), free of charge, for 24 hours so you can arrange for a pick up. Calisa can also provide delivery of your larger items for a fee.

read more details

Calisa Buys

Products move quickly! Come in today!

Many of our consignors are world travelers who are moving or downsizing to smaller homes. This gives us the opportunity to acquire many fabulous, one-of-a-kind items collected over many years from all over the world.

read more details

Calisa Sells
St. Peters Furniture Consignment Store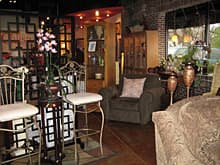 Are you looking for eclectic, upscale gently used home furnishings for your home at 40% to 80% off retail prices? If so, come in to Calisa Home Decor in St. Peters today.
As a leading furniture consignment store located in St. Peters, Missouri, we sell a wide and ever-changing selection of high quality used furnishings and home decor. At our store, you can find designer furnishings and vintage pieces at amazingly low prices. Because we focus on selling only upscale consignment, you can find some of the most popular designer pieces as well as unique home furnishings in like-new condition at our store. All of the furnishings and home decor items in our furniture consignment store have come from homes in some of the best neighborhoods throughout the St. Louis and St. Charles area. Come in today to see our current selection.
If you have furniture pieces to sell, we make selling upscale furniture and other home decor pieces easy. To learn more about selling on consignment through our furniture consignment store, contact us today.
How Can Our Furniture Consignment Store Help?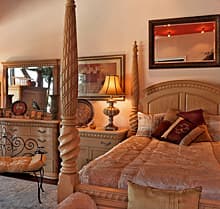 Serving the St. Louis and St. Charles area as a leading furniture consignment store since 2008, we have become a premier showroom for high quality pre-owned furniture.
Our furniture consignment store sells some of the best pre-owned furnishings and home decor in the St. Peters area. Each of the items has been chosen carefully by our in-house team of experts to give you the best options for your money. We sell only high quality pieces that are in excellent condition.
How Buyers Benefit from Our Furniture Consignment Store
While we sell only high quality and designer pieces that you will find for much higher prices elsewhere, when you purchase from us, you can rest assured that you will get fabulous discounts off retail pricing. Whether you are looking for European designs, contemporary style, designer and brand name pieces, or vintage furnishings, we are sure you will find something in our store to your liking. Come by our furniture consignment store and take a look at our collection.
When buying from our furniture consignment store:
You can purchase like-new furniture at discounts of up to 40% to 80% off retail.
Our stock is ever changing and new items are brought into our furniture consignment store every day.
With a wide selection of high quality pieces, we have something for every taste and style.
We only accept the best used home furnishings. We do not compromise on quality.
How Sellers Benefits from Our Furniture Consignment Store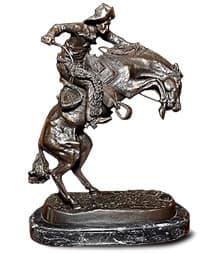 Selling through furniture consignment stores, like Calisa, is easy and advantageous to the seller. Our consignment services are ideal for those who need to sell one or several pieces of furniture quickly and for the best prices. If you have high quality furniture in your home that you no longer want, but do not want to give pieces away through a yard sale or by donating to charity, you can contact us. If you are moving and taking the furniture with you is not cost effective or if you are downsizing and have pieces that you must get rid of, you can consign them to us and we sell them at the best rates.
When selling with our furniture consignment store:
We can save you valuable time while selling your furnishings quickly.
You do not need to worry about letting strangers come to your home to look at your furniture.
You furniture will be displayed in front of a wide number of potential buyers.
Our furniture consignment store does all the work related to selling.
We can provide a list of local movers that offer pick-up and delivery services.
Shop Our St. Peters Furniture Consignment Store
If you are looking for a furniture consignment store where you can purchase the latest fashions in home furnishings for just a fraction of what it would cost to purchase new, designer furniture, a furniture consignment store, like ours is a good place to start looking. Come to Calisa Home Decor in St. Peters today to see our selection.
You can also call us at 636-970-0069 if you are interested in consigning one or several pieces with us.
Store Hours
Monday & Tuesday | CLOSED
Wednesday - Friday | 10:00 AM - 5:00 PM
Saturday | 10:00 AM - 5:00 PM
Sunday | NOON - 4:00 PM

Calisa Videos

Calisa Home Decor

Events at Calisa Home Decor