Best Upscale Consignment Shop in St. Peters, MO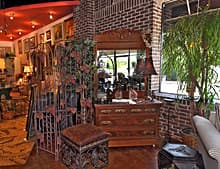 Calisa Home Decor, located in St. Peters is one of the best upscale consignment shops in the area. Our company was established in 2008 as a high-end home decor and furnishings resale company. We provide upscale consignment services for people who want to sell their high quality furniture.
Our strict quality control policy ensures that only the best quality pre-owned furniture finds its way into our shop. Therefore, you can purchase furnishings and home decor from us without worry. We look for designer furnishings and vintage pieces that are in great condition. If you have like-new furniture that you are not using or want to sell for any reason, we can help. While we are located in St. Peters on Mid Rivers Mall Drive, we are one of the few upscale consignment shops in the area catering to the entire St. Louis Metropolitan area.
If you are looking to consign furniture or other home decor items or if you have been searching for upscale consignment shops from which you can purchase high quality, unique furniture pieces, your search ends here.
About Our Upscale Consignment Shop
As far as upscale consignment shops go, Calisa is among the top. Over the years, we have earned a solid reputation for providing only the best and highest quality designer furnishings and decor pieces. We have become one of the few upscale consignment shops in St. Peters to have earned this distinction.
Do not mistake upscale consignment shops, like ours, with thrift shops. In consignment shops, the owner retains the title to any items until they are sold. This means the furniture you find in consignment shops tends to be higher quality and more unique.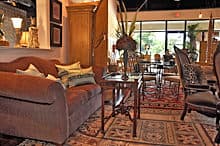 Because we are a consignment shop, the pieces in our stores are always changing, and we are always looking for new furnishings and home decor to consign. If you are interested in buying unique upscale furnishings, we recommend checking our store frequently. As with most upscale consignment shops, our selection changes often.
Buy Consigned Items
A main benefit of shopping at upscale consignment shops, like Calisa, is that you can buy high-end consigned items at 40% to 80% discounts over retail prices. Many of the items that come into our shop are from the homes of people who are moving or downsizing and for whom it is not cost effective or possible to transport the items to their new homes.
Since our items change regularly, we recommend that you come in often if you are searching for a certain unique piece. You never know when you might just find what you are looking for. You can also sign up for text alerts to keep updated and receive alerts when new items come in for consignment.
If you do not know exactly what you are looking for, we have a unique collection of upscale pieces available at affordable prices, much lower than retail, so come in today to see if something catches your eye. Not many upscale consignment shops can match the quality and discounts that we offer in our shop.
Consignment Services for Sellers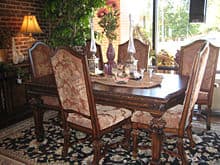 Whether you are planning to purchase new furniture for your home and do not know what to do with your old furniture or you are moving and have unique pieces that will not fit in your new home, upscale consignment shops can help.
When you consign in our shop, many potential buyers will see your furniture each day. Therefore, upscale consignment shops like ours are a safe, hassle free, and effective way to sell your like-new furnishing and decor.
Contact Us to Learn More About Our Upscale Consignment Shop
To see some of the types of furniture and other upscale decor items, which you may find in our shop, check out our photo gallery. However, since like other upscale consignment shops, our selection changes regularly, the best way to see our latest selection is to come in today.
If you want to know more about our store or the items we consign, you can contact us by phone at 636-970-0069.
Store Hours
Monday & Tuesday | CLOSED
Wednesday - Friday | 10:00 AM - 5:00 PM
Saturday | 10:00 AM - 5:00 PM
Sunday | NOON - 4:00 PM

Calisa Videos

Calisa Home Decor

Events at Calisa Home Decor