Consigning Your Furniture at Furniture Consignment Stores
Do you want to sell your barely used furniture? Are you remodeling your home and want to bring in new furniture? Are you moving or downsizing and have quality, pre-owned furniture that you will no longer have room to accommodate? Selling this furniture through furniture consignment stores is a safe, hassle fee, and convenient way to sell any furniture you no longer want.
Fine Furniture We Carry
American Drew
Baker
Bassett
Benchcraft
Bernhardt
Best Chairs
Bombay
Bradington Young
Broyhill
Canadel
Carsons
Century
Clayton Marcus
Cushman Furniture
Dixie
Drexel
Ethan Allen
Hammary
Hekman
Henredon
Hooker
Karges
Kimball
Kincaid
Lane
La-Z-Boy
Leathercraft
Legacy
Lexington
McGuire
Moore
Norwalk
Pulaski
Ralph Lauren
Rowe
Sherrill
Stanley
Stickley
Superior
Tell City Chair Co.
Thomasville
Wesley Home
At Calisa Home D?or, you can consign your high quality furniture to sell them quickly and at a fair price. Furniture consignment stores, like Calisa, can help people sell their like-new furniture by providing exposure to potential buyers from all over the St. Charles and St. Louis area. If you live in St. Peters or anywhere in the St. Louis area, and you are looking for furniture consignment stores, contact Calisa Home D?or today. We can evaluate your furniture to determine whether we can sell it in our store and we will help you determine what price you can expect to receive.
Call us today at 636-970-0069 to learn more or complete our consignment form below. Be sure to see our requirements and consignment contract terms below.
Benefits of Consigning at Furniture Consignment Stores
Furniture consignment stores, such as Calisa, have many benefits to offer for individuals interested in selling their good quality furniture pieces. Here are some of the benefits of selling on consignment: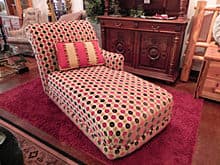 Displays Items to Potential Buyers: Furniture consignment stores, like Calisa, sell only high quality pre-owned furniture. Every day many people will visit a furniture consignment store looking for great deals on this exact type of furniture. Therefore, more people are likely to see your furniture at furniture consignment stores than they would elsewhere.
Takes the Work of Selling Off Your Hands: After consigning your furniture to furniture consignment stores, you no longer have to advertise the piece nor deal with potential customers. This means no waiting for no-shows or dealing with ridiculously low offers. Therefore, furniture consignment stores make the process easy, fast, and less stressful.
Protects Your Privacy and Safety: When you decide to sell your furniture, potential customers will want to see it. Allowing random people to enter your home can be dangerous. Consigning furniture is a better and safer option. This means, no more strangers entering your home, no fear of online scams, and no waiting for people to show up.
Furniture Consignment Stores- The Consigning Process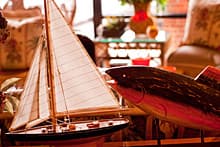 Calisa is different from most furniture consignment stores, as we will accept only upscale furnishings and home d?or articles that are in excellent condition. These must be well constructed and well made pieces. The items must not be worn and the style should be appealing. All items to be consigned must be clean and in perfect condition.
Before arranging for delivery to our furniture consignment store, we recommend that you ensure that we can accept your piece. You can send us photographs of the items you want us to consign. If you have several items you would like to sell at our upscale consignment store, we can also arrange to come by your home or storage area to view the items. We do not appraise or price furniture that is not to be consigned at Calisa's.
Like many furniture consignment stores, Calisa Home D?or consigns tables, chairs, home d?or, lamps with shades, antiques and vintage furniture, sofa, rugs, art, and more. For a more extensive list, call us.
Our Consignment Contract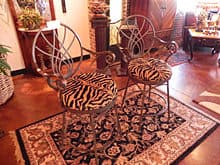 We will consign items for 90 days. You cannot remove your items before this period is over. If the sale price of the item is over $100, you will receive 50%. If the sale price of the item is below $100, you will receive 40%. The initial consignment period will expire at the end of 90 days. Contract periods may be extended, on a case by case basis. You are welcome to pick up any items that have not sold at the end of the contract period. You must pick up the item within 5 days of the contract expiring or we will take ownership of the item.
Checks will be issued once every month. Before you come to collect a check, it is recommended that you call ahead so we can have a check ready. If you are moving out of state, we can mail your check to you.
If Calisa Home D?or conducts any promotional events, you will have to participate in them. As a consigner at Calisa Home D?or consigned items will be included in sales events and promotions, as well as price reductions to facilitate sales.
Download Consignment Contract to learn more.
Moving? Our Furniture Consignment Store Works on Your Schedule
Calisa offers priority consignment services for people relocating in the area or out of state. We understand that the period between a contract and closing is sometimes quite short. Furniture consignment stores like ours can work quickly to move your furniture out of your home.
Contact Calisa to Sell Your Upscale Consignment
To learn more about consigning your furniture at Calisa, you can contact us at 636-970-0069. You can also complete the form above to send us information on any furniture that you want to consign.
Store Hours
Monday & Tuesday | CLOSED
Wednesday - Friday | 10:00 AM - 5:00 PM
Saturday | 10:00 AM - 5:00 PM
Sunday | NOON - 4:00 PM

Calisa Videos

Calisa Home Decor

Events at Calisa Home Decor