Contact Our Consignment Store in St. Louis, MO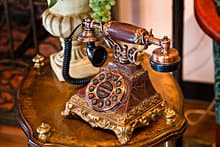 If you are looking for consignment stores in St. Louis, MO selling top quality consignment furniture that is reasonably priced and stunningly beautiful, look no further than Calisa. At our St. Peters store, we sell a large and ever changing selection of top quality furniture and home d?or at prices that are 40% to 80% off retail prices.
To know learn about the furniture that we have to offer or to find out how to become a consignor to sell your pre-owned furniture, contact us today. If you would like to learn more about our consignment store in St. Peters, MO, you can contact us using the form or contact information below. You can also provide information about any item you would like to sell at our furniture consignment store by completing the consignment form on our How to Sell page.
Calisa Home Decor
3354 Mid Rivers Mall Drive
Saint Peters, MO, 63376
2 Miles South of Highway 70 / 2.6 Miles North of Highway 94

Phone: 636-970-0069
Email: [email protected]

Store Hours:
Monday & Tuesday: Closed
Wednesday - Friday: 10 AM - 5 PM
Saturday: 10 AM - 5 PM
Sunday: Noon - 4 PM


View Larger Map
You can also sign up for coupons, specials, and alerts when new merchandise comes into our shop by texting "Calisa" to 71441.
Selling Products at Our Consignment Store in St Louis, MO
If you are interested in selling good-quality furniture that you can no longer use, you should consider selling it with us. As one of the best consignment stores in St. Louis, MO, we are trustworthy, straightforward, and honest in our process.
Our pricing is reasonable and we make our best efforts to sell your pieces quickly while helping you obtain a fair price. We base pricing on the style of the item, the condition it is in, the original price, brand or manufacturer, and the demand from the customers. We truly understand the worth of every item before we name a price. This is one of the things that makes Calisa one of the top consignment stores in St. Louis, MO.
If you are interested in consigning you can contact us through email with photographs and descriptions of the items you want to sell. Large items can be photographed for our approval, smaller items can be carried in. In the case of large collections, such as all the furniture throughout a home or storage area, a representative of Calisa can visit in person to approve these pieces. This is a free service, however, we do not appraise or otherwise price furniture not being consigned at Calisa.
Unlike some consignment stores in St. Louis, MO that accept all items, we have specific requirements regarding the types of furniture we can sell. We cannot accept furniture that is:
An incomplete set, such as a dining table without chairs
Lamps that do not have shades or have shades that are damaged
Children's room d?or and infant/baby furniture
Damaged items that will need to be repaired or refinished
Collectibles such as dolls, commemorative plates, etc.
Hide-a-beds
Bedding, pillows, linens or curtains
Glassware, brass, or china
Items that need to be polished
Southwest style or country style furniture
Come In to Browse the Products at Our Consignment Store in St. Louis, MO
Calisa is known by many to be one of the finest consignment stores in St. Louis, MO for its interesting and fantastic pieces of furniture and home d?or. The greatest advantage of shopping consignment is that you can find gorgeous and unique pieces at low prices, often up to 80% of the original retail price.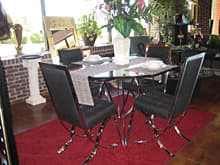 A lot of the people who consign with us are those who travel the world, are moving across the country, or are downsizing. This allows us to supply a unique mix that is not found at many other consignment stores in St. Louis, MO. Our eclectic mix of stylish furniture comes from our consignor's tastes. Calisa is considered one of the top consignment stores in St. Louis, MO because of our one of a kind collection that is sure to hold something for everyone.
Why You Should Choose Our Consignment Store in St. Louis, MO
At Calisa, we strive to bring together those who are looking to sell quality, pre-owned furniture and those who want to purchase exciting and exclusive d?or items for their home. Calisa is one of the best consignment stores in St. Louis, MO for its product range and versatility.
From upscale furniture to antiques, we have it all. To learn more about our stores, call or come by today.
Store Hours
Monday & Tuesday | CLOSED
Wednesday - Friday | 10:00 AM - 5:00 PM
Saturday | 10:00 AM - 5:00 PM
Sunday | NOON - 4:00 PM

Calisa Videos

Calisa Home Decor

Events at Calisa Home Decor